On the History of RC-Technik
The history of today's RC-Technik Ventilatoren-Vertriebs GmbH goes back to the year 1969, when on the 1st of April, Reinhard Curdt – until then sales manager of an electrical engineering company – founds his own company, RC-Technik, in Berlin. As a start, he and his wife take up the distribution of electronic and electrical components from their own living room. Soon after, the company offers a wide range of products comprehensively satisfying the ever increasing demands of Berlin's trade and industry.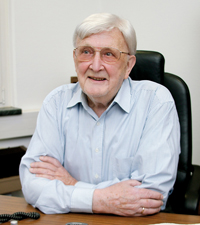 From the beginnings as a couple a team of four employees emerges after a short time, also including son Matthias, who starts his apprenticeship in his father's company. As early as at the beginning of the seventies, the company takes up its first own headquarters in the district of Wilmersdorf, Wilhelmsaue.
At this point in time, the major issue of environmental protection is increasingly gaining in significance. Reinhard Curdt sees this as a crucial chance to advance into areas of ventilation technology in which individuality and specific know-how cannot be replaced by industrial mass production. Thus, both the private and the industrial sector are provided with specialized manufactures early on. For the company this represents the path towards constant expansion but also to a high degree towards innovation, where a new, both technically and ecologically high-quality product is generated from individual technical components. Next to the products of numerous renowned manufacturers, the company's sales program now also comprises modified devices from its own production, which are made to the customers' individual specifications.
In those years the second mainstay of the company develops, which is to become the founder's main passion: ventilation technology for rail-bound vehicles.
In 1977, the first radial blowers for the equipment of electric locomotives are delivered to South Africa, soon to be followed by blowers for the Pendolino and the ICE. Then come axial blowers for the Metro in Madrid, the underground trains in Shanghai, Athens, Oslo and Cairo as well as cooling fans for newly built streetcars in Germany. At this point in time, the construction of rail vehicles experiences a renaissance as never before. Reinhard Curdt realizes early on that this represents a great innovation potential for the construction and production of railway-compatible blowers. Between November 1988 and January 1989, RC-Technik develops its own ventilation container for the new twin railcars of Berlin's S-Bahn within two months. With little adjustment effort, vehicles of any design can be equipped with this container, which also offers a very long operational life span, even under extreme conditions.
As a third mainstay of the company, not even ten years later an additional line of action will emerge in the field of power engineering: the application of modified railway-compatible blowers for the cooling of generators, large engines and converters as well as in switchgears and wind power plants. In this field, RC-Technik will enter new international markets in the new millennium.
In the middle of the eighties, the by then increased staff moves into new headquarters in Berlin's district of Schöneberg in the Feurigstraße until eventually, in 1991, an old factory building in the Eisenacher Straße – only a couple of meters from the previous location – provides more room for storage and logistics, production and distribution. Eisenacher Straße 56 will remain the headquarters of the company for more than a dozen years. For its perspective continued existence, the long since planned reorganization from the former sole proprietorship "Reinhard Curdt, RC-Technik, Berlin" into "RC-Technik Ventilatoren-Vertriebs-GmbH" is carried out in 1998. Since January 2000, RC-Technik's team has successfully been retaining its certification according to DIN EN ISO 2000 on an annual basis.
Eventually the long since planned move into a new, modern building in the district of Tempelhof is accomplished in April 2003. Now, the company offers to its customers not only a representative atmosphere for individual consultations, but also sufficient on-site parking space and direct loading and unloading opportunities within the production hall. Above all, the modern production facility guarantees the optimal production of high quantities and simultaneously enables RC-Technik to advance into the new field of repairs and maintenance of ventilation devices as a fourth mainstay, which is to be further expanded perspectively.
In the year 2007, after 38 years of joint management with managing director Mrs. Wolf von Mohnsdorff, Reinhard Curdt transfers his title as managing partner to his son Matthias. Matthias Curdt becomes managing director of RC-Technik GmbH on 1 June 2007.